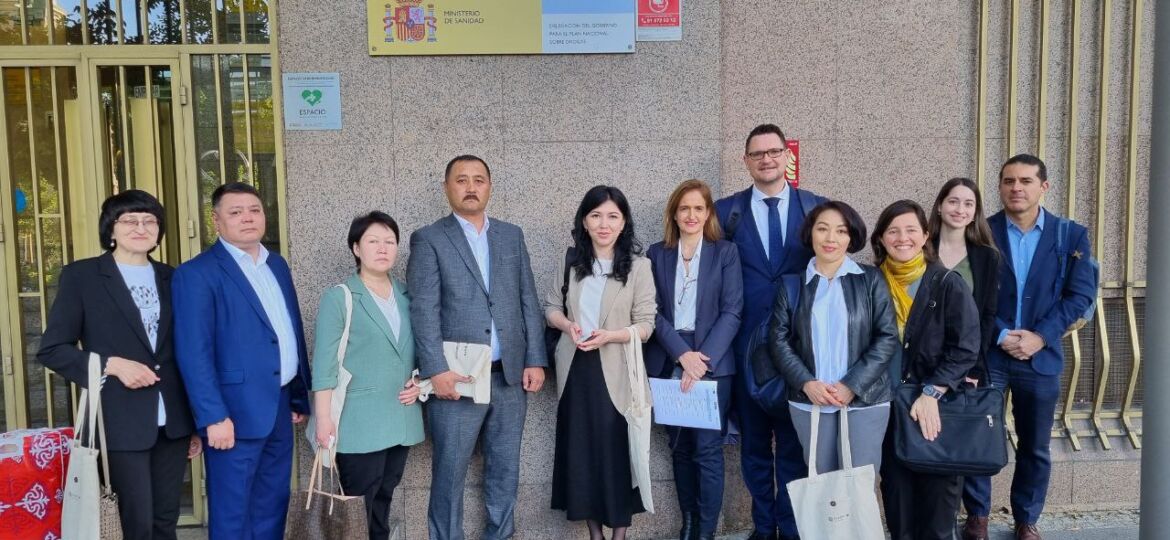 Specialists from the State Penitentiary Service of Kyrgyzstan visited Madrid to learn first-hand how Spanish prisons approach the work with drug dependent inmates in order to achieve an effective rehabilitation.
This visit, organised by CADAP jointly with the OSCE's Programme for the Implementation of Prison Reform in Kyrgyzstan, allowed Kyrgyz specialists to learn about the work carried out in Spain by different institutions with competences in the field such as the Government Delegation for the National Plan on Drugs, the General Secretariat of Penitentiary Institutions of the Ministry of the Interior, the Madrid IV Penitentiary Centre, the CIS Josefina Aldecoa and the General Sub-Directorate of Addictions of Madrid Salud of the Madrid City Council.
For CADAP's Coordinator, Antonio Miguel González, this visit is "an opportunity for exchange experience in the field of treatment and rehabilitation of drug addiction in the penitentiary environment.  The evolution of the Spanish prison system, the reforms and practices adopted by Spain to comply with the EU regulations, the institutional coordination system through the National Plan on Drugs and the accumulated experience in this type of visits make Spain a benchmark at European level" and adds "this visit has been planned with a comprehensive approach aimed at the rehabilitation of the prisoners, involving the different resources and administrations that intervene throughout their prison situation".
For Peggy Martinello, director of the Public Administration and Social Affairs area of the FIIAPP, the study visit "is a forum for mutual learning between counterpart institutions from different countries, which is structured around the desire to know, learn and improve public policies" and in this line she highlights "the importance of programmes such as CADAP that contemplate this type of initiative".
The aim of this visit is to learn about the training in psychology, psychotherapy and drug addiction treatment of professionals who treat inmates with addictions in prisons; to understand the working model followed by therapists and prison staff in relation to new psychoactive substances and amphetamine-type stimulants; to learn more about group therapies to deal with addictions in prisons; as well as to get to know the reinsertion, rehabilitation and assistance programmes that are carried out in Spain for open prisoners and ex-prisoners with drug use disorders.
The visit will strengthen institutional cooperation and exchange experiences on concepts and practices in prevention, harm reduction, treatment and rehabilitation measures, in order to improve the professional capacity of staff working in the prison system of Kyrgyzstan. This form of cooperation is the basis of the work of the FIIAPP, a public foundation that promotes, supports and accompanies improvements in public systems worldwide based on the exchange of experience and knowledge between public institutions.