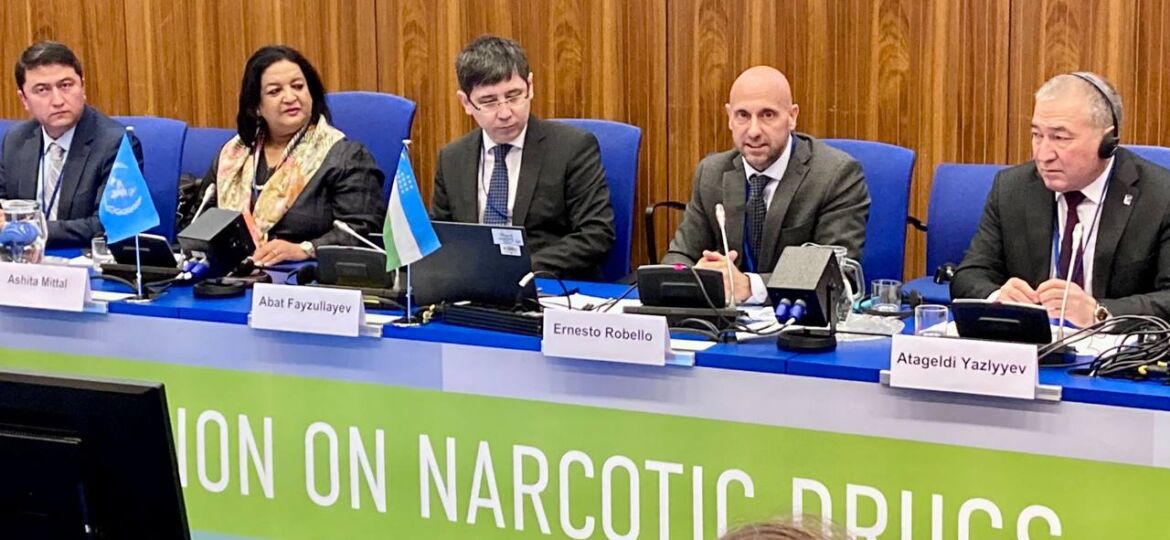 The 66th United Nations Commission on Narcotic Drugs has been held in Vienna on March 13-17 in which Spain participated through the presence of the Government Delegation of the National Plan on Drugs, the Anti-Drugs Prosecutor, the Intelligence Center for Combating Terrorism and Organized Crime, International and Ibero-American Foundation for Administration and Public Policies (FIIAPP) and European cooperation programmes on drugs such as COPOLAD and CADAP 7.
On March 14, a meeting has been held between Spain and government delegations from Central Asian countries, where the Spanish side presented the latest developments and a national anti-drug strategy with a special focus on international cooperation. In addition, the parties exchanged views and expectations on the implementation of the current phase of CADAP.
On March 15 CADAP 7 together with UNODC ROCA  supported the side event for the Kyrgyz Republic   "Innovative approaches in the field of the fight against illicit drug trafficking and prevention in Kyrgyzstan", where Kyrgyz authorities, CADAP and UNODC  shared views, experiences and proposals on introducing new technologies such as hyper-spectral cameras and aerial systems in the fight against illicit drug trafficking.
Ernest Robelló, CADAP 7 Director pointed out that "it is necessary to balance drug strategies in a more balanced way and from a public health perspective".
On March 16 the side event has been held for Uzbekistan –  "Uzbekistan's Efforts in Promoting a Drug-Free World. Prospects for Strengthening Regional Cooperation in the Anti-Drug Sphere", where participants shared their views on perspectives for strengthening the regional cooperation based on the mutual trust and understanding and the importance of the regional interconnection.