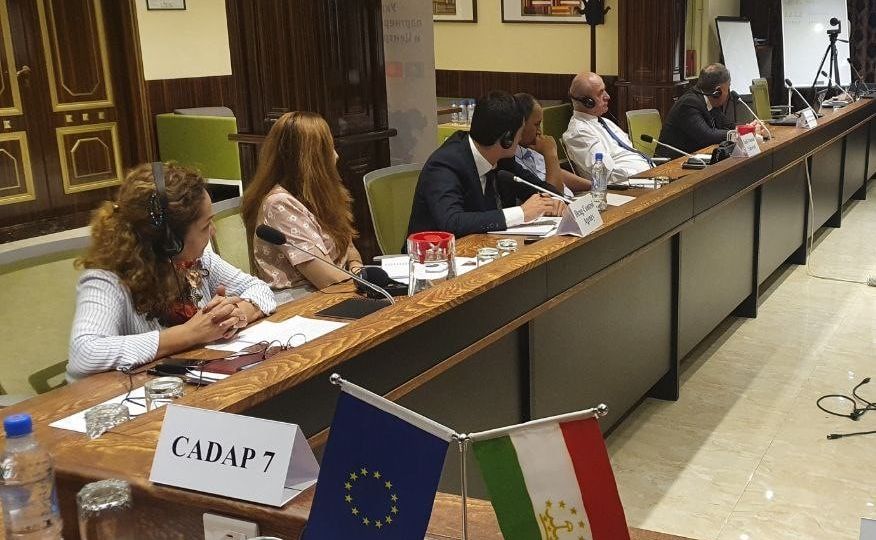 Dushanbe, August 19, 2022
Next Technical Committee meeting from the series has been conducted in Dushanbe on August 19, 2022 in hybrid format with participation of CADAP management, the EU delegation and the Government authorities such as the Drug Control Agency, Ministries of Foreign and Internal Affairs, Education, Justice, Health.
Cosimo Lamberti, EU Delegation Programme Manager opened the event and highlighted that "European Union and CADAP programme are not simply bringing expertise to the region but also exchanging experience and expertise."
Ms Firuza Murdovzoda, the Head of Informational and Analytical Department of DCA expressed gratitude to European Union and CADAP programme for continuous support that was provided to Tajikistan during previous phases and assured readiness for successful implementation of the Work Plan under the new phase. Specific emphasis was made with regard to enhancing cooperation on preventive activities and hard component.
A separate working session with experts from National Center on Prevention of Addictions (Poland) has been held, where preventive measures planned for 2022-2023 years have been presented based on the needs and proposals to national partners assessed earlier. As it was said by Mr. Janusz Sieroslavsky, expert, "Drug use prevention programmes are effective when they respond to the needs of a community, involve all the relevant sectors and are based on scientific evidence; effective programmes should also incorporate strong monitoring and evaluation components".
The meeting involved a presentation of the programmes' objectives, expected results and the actions planned for the next year, followed by a constructive discussion with the primary beneficiaries and partners. The objectives of the meeting were to share good practices, identify priority issues discuss the draft working plan, identify opportunities for knowledge and experience sharing in the area of drug reduction.